Who We Are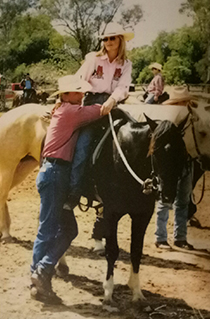 As we revamp our website I reminisce back 10 years or more to when I first wrote "About Us" and what we wanted to achieve and project into the future. I am happy to say many of those things have been achieved and our projects are still ongoing and dreams seem to grow bigger every day.
The biggest thing I notice over such a time frame is how the horse industry has grown and changed. At Richard Webb Cutting Horses we still train, show and breed cutting horses very successfully. We still teach many people to ride and show their own cutting horses, travelling with us and enjoying the sport.
The change I am talking about is the amount of people looking for somewhere to ride and someone to teach them along with their horse. Enabling them to enjoy the many new horse disciplines like team sorting, team penning, ranch riding etc. that we see today or simply just having fun and enjoying their horse along with other like-minded people.
I am passionate when it comes to teaching people who are searching to learn the basic horsemanship skills or improve their skills allowing them to enjoy their horses more and to compete at a level where they are having a lot of fun.


The clinics we run cater to people from all horse disciplines and all horsemanship levels. We run from the most basic beginner horsemanship clinic up to the very advanced cutting clinics in conjunction with other professional trainers and accredited judges.
Our clinics have become so successful we have made the decision to go to the next step and improve our facility to better cater for our clients. Thus, recognising the need for a venue that can accommodate learning along with horsemanship and events we have concentrated over the past 5 years to build a centre of learning and make it available to groups and individuals to fit their schedule for all events.
The completion of our brand new indoor arena is now open for business and will be known as the "Bottletree Arena". The 35m x 35m arena now gives us the flexibility to run all weather events with the massive 65m outdoor round pen complimenting the whole complex. There is also a 6 horse walker, two smaller round pens, a small course camp draft incorporated within the large round pen and multiple mechanical cows available.We will be catering for not only Richard Webb Cutting Horse clinics and lessons but will consider inquiries from other user groups who may wish to hire Bottletree Arena and the facility. This includes all horse groups and non-horse groups such as dog trials and livestock sales. Our motto is "You inquire we will accommodate".
It is my belief to run such a facility certain boxes must be ticked such as expertise, experience, success and credibility.
1
Expertise: In my case this can be put down to over 30 years' experience in the equine industry from breeding, starting young horses, training, teaching and showing horses successfully all over Australia. Organising many events from major cutting horse events including the NCHA Futurity, horse challenges and of course horsemanship and cutting clinics. I am a past president of the National Cutting Horse Association therefore have a deep understanding of involvement from administration through to safety and dealing with many different groups from corporate sponsors to cattle donors.

2
Success: Our success is well documented within industry records and I have been very fortunate to ride many great horses to NCHA Champion titles and Open cutting competitions. We are still actively showing and hope for many more champions to arise from within our stable. Gillian, my partner, also has many varied achievements in her horse riding ability having competed in show jumping in Britain before coming to Australia. In Australia she has been very successful winning at state level in Western Pleasure, Trail and Versatility classes before turning to Cutting where she rose to Australian Champion riding her great cutting mare Hollys Henrywood.

3
Credibility: I have fulfilled all requirements to become a Senior Horse Riding Instructor and be accredited through The Horse Council of Australia which is recognised in most countries around the world.
Accreditation requires such things as :
Completion of the H.S.A. Instructors course certificate
Completion of a First Aid certificate
Current certificate of Currency and Public Liability
Current Working with Children's check
Current NCHA Accredited trainer